FINANCE
The Best Cloud Storage Solutions for Your Business Needs
Every business, regardless of its type, handles a substantial volume of data. Such information may include inventories, sales figures, client database, financial documents, and so forth. If a disaster strikes and this information gets lost or stolen, it could result in the crippling of a business's operations.
The best way of ensuring the safety of crucial business data is by investing in cloud backup services. Their off-site location means that the information is less vulnerable to vandalism and other forms of physical damage. Also, cloud storage platforms have impressive file-sharing features that allow you to send large files over email and other media.
Given the abundance of cloud storage providers available in the market, it can be challenging to find a suitable solution. Ideally, your chosen platform should offer ample storage space at affordable prices without compromising on the security of your data.
In this article, you will get an overview of the best cloud storage solutions for your business needs.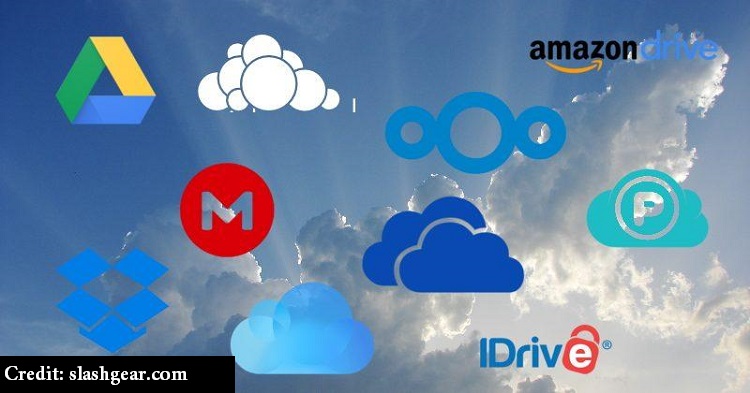 1. IDrive
The standout feature of the IDrive cloud backup solution is its support for continuous syncing of files, including those in network drives. Its web interface allows users to share data by email, Facebook, and Twitter.
If you unknowingly delete a file from your computer, you will still have an online backup. IDrive does not automatically delete files stored on the cloud servers. Moreover, you can easily access this service from a mobile device, and it supports remote management as well.
Concerning security, IDrive uses a 256-bit AES encryption to transfer and store data files.

2. Microsoft OneDrive
If you are running the latest version of Microsoft's Windows OS, Windows 10, you have probably noticed that the file explorer has OneDrive. This is the best cloud backup solution for any business that uses the Windows operating system.
In March, Microsoft added support for Autodesk AutoCAD on OneDrive, which is excellent news for businesses that use this software. Even better, OneDrive is available on both web and mobile platforms.

3. Google Drive
With up to 15 GB of storage available for free, Google Drive is perhaps the most generous cloud backup storage solution. It is a natural choice for Android users because it is inbuilt into the OS. It is also available to all users that have a Google account.
Another advantage of Google Drive is its support for Google's office suite, which is known as G Suite. G Suite has a variety of solutions including, Google Docs, Google Sheets, Gmail, Google Calendar, Hangouts, and Google Slides, and so on. What's more, you can easily upload files onto your cloud drive using drag-and-drop.
4. Dropbox
Dropbox is the undisputed king of free cloud storage solutions. Its most impressive feature is its simple interface that is easy to use, even for novices.
Additionally, Dropbox is available on the three major desktop platforms – Windows, Mac, and Linux. It also has apps for Android and iOS mobile devices. This increases its accessibility.
You can easily edit files without downloading them when using the web version of the Dropbox cloud solution. The File Requests feature allows you to request other users to upload files directly to your Dropbox account.
The only shortcoming of Dropbox is its limited free storage space. The service offers 2 GB, which is paltry when compared to other free solutions.
5. pCloud
pCloud is the best cloud storage platform for a business looking to back up large media files. Although it has bandwidth limitations, this service does not limit the size of the files you can upload. pCloud is available across all popular platforms and allows users to log in through their website.
You can lock individual files with passwords for an extra fee using pCloud Crypto, the service's private cloud storage. The company operates out of Switzerland, a country known for its stringent data privacy regulations. This guarantees the protection of your data against malicious breaches.
pCloud is among the few cloud storage providers that offer lifetime subscription. If you go for this option, you will get a 30-day trash history and unlimited remote upload traffic.
Conclusion
The solutions listed above are just but a few of the several options available in the market. When choosing a cloud storage provider, many people understandably go for the option that offers plentiful storage space for free. Although large spaces are vital, the real value of a cloud storage solution comes from how well it serves your business. As seen above, some options are best-suited for a specific operating system, while others cut across all platforms.
Cloud technology is rapidly evolving, so be on the constant lookout for new solutions with even better features.